Marco's Restaurant at Pennsauken Menu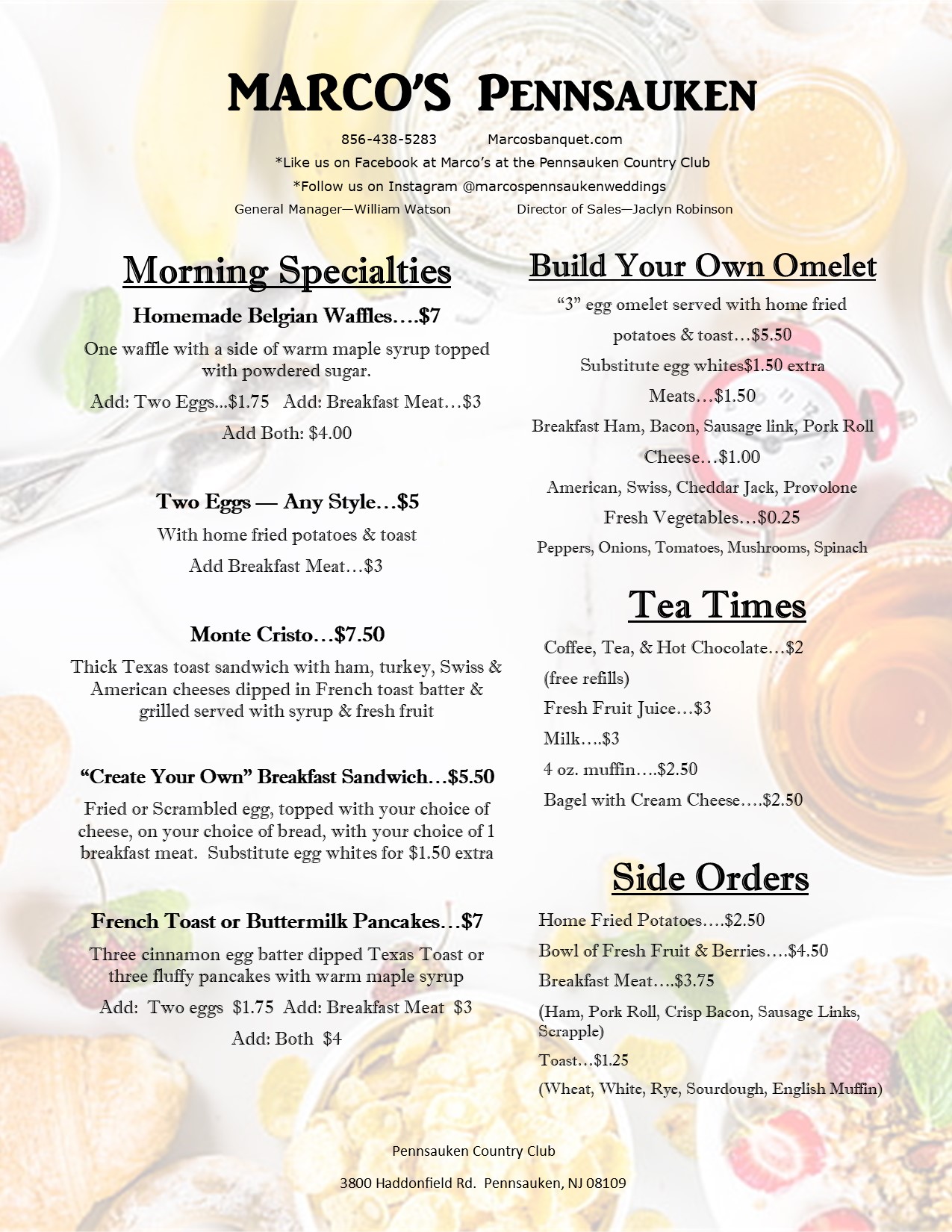 Marco's At Pennsauken Restaurant Menu
Traditional Panzarotti
Crispy fried and served with a side of marinara
$7.00
Shrimp Cocktail
Chilled jumbo shrimp served with our spicy cocktail sauce and a lemon wedge.
$10.00
Lettuce Wrap
Turkey or Chicken grilled in a sweet and spicy vindaloo sauce. Served with fresh Bibb lettuce, veggie salad, and peanut dipping sauce
$9.00
Marco's Lump Crab Dip
A savory blend of lump crabmeat, spinach, artichokes and cheese served with tortilla chips.
$10.00
Baked Macaroni & Cheese
Baked cavatappi macaroni mixed with sharp cheddar and sharp provolone cheese (serves 2).
Single Serving – $5.00 | Double Serving – $9.00
Landsharks
Jumbo shrimp stuffed with american cheese, dijon mustard, horseradish and wrapped with cherrywood bacon
$11.00
Marco's Sliders
Please select three of your choice:
-Black Angus Cheeseburger with Cherrywood Bacon
-BBQ Pulled Pork Topped with Cole Slaw
-Grilled Turkey with Spinach, Swiss Cheese and 1000 Island Dressing
mix and match, add $3
Add Additional Toppings ($2.00 Each):
Pepperoni, Grilled Chicken, Italian Sausage or Fresh Vegetables
Margarita
Margarita flatbread with oven roasted tomatoes, fresh mozzarella and basil pesto sauce.
$9.00
Blanca
Fresh spinach, garlic, tomato and melted mozzarella cheese.
$8.00
Cheese
A blend of mozzarella and provolone cheese with tomato sauce.
$8.00
Shrimp & Dungeness Crab Bisque
Rich, creamy and slow simmered shrimp and crab stock slightly thickened with chopped shrimp and Dungeness crab topped with sherry.
Cup – $4.00 | Bowl – $5.00
Soup Du Jour
Daily collection of classic and innovative soups.
Cup – $3.00 | Bowl – $4.00
November-March Marco's Chili
Topped with cheddar cheese & green onions, served with crispy corn tortilla chips
Cup – $4.00 | Bowl – $5.50
Add Any of the Following:
Teriyaki Filet Tips – $13 | Sesame Crusted Ahi Tuna – $12
Grilled Chicken Breast – $10 | Maryland Crab Cake – $14 | Old Bay Shrimp – $12
Grilled Salmon – $12 | Buffalo Chicken Tenders – $10
Marco's Salmon Salad
Honey ginger grilled salmon over garden greens with artichoke hearts, sliced pears, candied walnuts, and tomato wedges served with a wasabi cucumber dressing
$12.00
Light N' Fresh Salad
A generous bed of greens with your choice of grilled chicken breast or solid white tuna fish, with tomato wedges, sliced pears, sliced cucumbers, and our house balsamic vinaigrette.
$10.00
Seafood Mango Salad
Pan seared mesquite scallops, shrimp, and jumbo lump crabmeat atop Bibb lettuce with fresh mango salad and poppy seeds in lime vinaigrette dressing
$15.00
Apricot Glazed Chicken Salad
Grilled chicken glazed with apricot reduction with fresh tomatoes and sliced avocado over romaine lettuce and balsamic vinaigrette
$11.00
Grilled Turkey and Strawberry Salad
Marinated turkey breast, fresh strawberries, dried cranberries, crumbled feta cheese, candied walnuts, and cherrywood bacon served over mixed greens with white balsamic vinaigrette dressing.
$12.00
Classic Caesar Salad
Romaine lettuce, herbed croutons and reggiano parmesan cheese tossed in our creamy Caesar dressing.
Jumbo Buffalo Wings
With your choice of sauce: BBQ, Classic, or Sweet Red Chili Glaze
$9.00
Chicken Fingers & French Fries
$9.00
Home Style Battered Onion Rings
$5.00
Nacho Chips & Salsa
$3.00
French Fries
$4.00
Cheese Fries
$5.00
Sweet Potato Waffle Fries
With cinnamon sugar and jalapeno-lime dipping sauce.
$5.00
Fried Shrimp
With French fries.
All sandwiches served with potato chips and a pickle.
Substitute French Fries or Sweet Potato Fries – $2.00 Additional
Maryland Crab Cake Sandwich
Marco's house specialty served on a Bianco roll with lettuce, tomato and tartar sauce.
$14.00
Reuben
Classic with grilled corned beef, Swiss cheese, sauerkraut and Russian dressing on rye bread or New York Deli Style with freshly sliced corned beef with Swiss cheese, cole slaw and Russian dressing on rye bread.
$9.00
Tuna Melt
Chunk white tuna fish salad with tomato, crisp bacon and Swiss cheese on an English muffin.
$10.00
Chicken Sandwich
Spicy fried or grilled chicken breast with lettuce, tomato, onion, provolone cheese, and bacon on a Kaiser roll served with a side of jalapeno ranch dressing.
$9.00
Turkey Melt
grilled turkey and cherrywood smoked bacon, goat cheese, and spinach with a peppercorn spread on a bianco roll
$10.00
Ahi Tuna Wrap
Pan seared rare ahi tuna tossed with Asian slaw and teriyaki wasabi dressing in a wrap.
$10.00
Roast Beef & Cheddar Melt
Sliced top round of beef with melted cheddar cheese, onion rings and garlic toast points with gravy.
$10.00
BBQ Pulled Pork
Shredded pork tossed in Sweet Baby Ray's BBQ sauce topped with cole slaw on a Kaiser roll.
$8.00
Italiano Sandwich
Topped with broccoli rabe, roasted peppers and sharp provolone cheese on an Italian roll.
Pulled Pork – $8.00 | Grilled Turkey Breast – $9.00 | Chicken Breast – $9.00
Philly Style Cheesesteak
beef, chicken, or buffalo style chicken
$9.00
Classic Clubhouse Sandwich
Your choice of smoked ham, roasted turkey breast, chicken salad or tuna salad with bacon, lettuce and tomato on your choice of toasted bread or wrap.
$8.00
All American Burger
Your choice of an 8 ounce Black Angus burger or homemade chicken burger. Grilled to order with your choice of cheese, lettuce, tomato and onion.
Add Any Additional Toppings ($.50 Each): Bacon, Peppers, Ham or BBQ Sauce
Add Onion Rings
$3.00
Add Fresh Seasonal Fruit
$3.00
Add Asian Coleslaw
$2.00
Add House Garden Salad
$3.00
Add Sweet Potato Waffle Fries
$3.00
All entrees served with house garden salad or soup du jour.
Classic Caesar Salad or Bisque – $1.99 Additional
Maryland Crab Cake
Marco's house specialty – broiled jumbo lump crab cake with fresh herbs and seasonings.
$26.00
Seafood Americana
Sauteed shrimp and diver scallops in a lobster cream sauce over pinwheel pasta.
$23.00
Ahi Tuna
Sesame seed crusted tuna with wasabi cream and teriyaki sauce.
$20.00
Boursin & Bacon Scallops
Pan seared diver scallops served in a garlic, sun-dried tomato, asparagus and boursin cream sauce topped with cherrywood bacon, chopped scallions and served with rice pilaf.
$22.00
Land & Sea
Filet mignon and stuffed shrimp with crab imperial.
$29.00
New York Strip Steak
12 ounce strip steak with a peppercorn brandy sauce.
Add Jumbo Lump Crabmeat and Asparagus – $5.00 Additional
$26.00
Filet Mignon Champignon
8 ounce filet with a mushroom shallot merlot sauce.
6 Ounce Filet – $20.00
$26.00
Cajun Ribeye
14 ounce cajun rubbed ribeye topped with roasted galric and chive butter.
$25.00
Veal Chop Abruzzi
Grilled veal chop with mushroom brandy cream sauce topped with mozzerella and served with asparagus
$28.00
Chicken Parmesan
Breaded chicken topped with tomato sauce and mozzarella cheese served over linguini.
$16.00
Pork Osso Bucco
"Fall off the bone" pork shank braised and served in the natural juices.
$20.00
Atlantic Salmon
Prepared One of 3 Ways:
*Grilled Salmon with Asian Slaw and Sesame Ginger Sauce
*Stuffed with Crab Imperial and Served with a Lemon Chive Butter Sauce – $21.99
*Caramelized with a Pineapple BBQ Glaze then Grilled and Served on a Smoldering Cedar Plank
Served with a garden salad or soup du jour.
Classic Caesar Salad or Bisque – $1.99 Additional
Chicken Pot Pie
A classic favorite topped with a flaky pie crust.
Lunch Size Portion – $8.00
Dinner Portion Size – $15.00
Lasagna
A generous portion of our bolognese meat lasagna layered with fresh mozzarella, ricotta cheese and Black Angus ground beef.
$14.00
Homemade Meatloaf
An individual meatloaf served with vegetables and mashed potatoes.
$13.00
Fish-N-Chips
Pub style battered cod with French fries, tartar sauce, coleslaw and malt vinegar.
$13.00
Chocolate Lava Cake
$6.00
Dish of Rice Pudding or Ice Cream
$3.50
Peanut Butter Bomb
$6.00
Brownie Sundae
$7.00